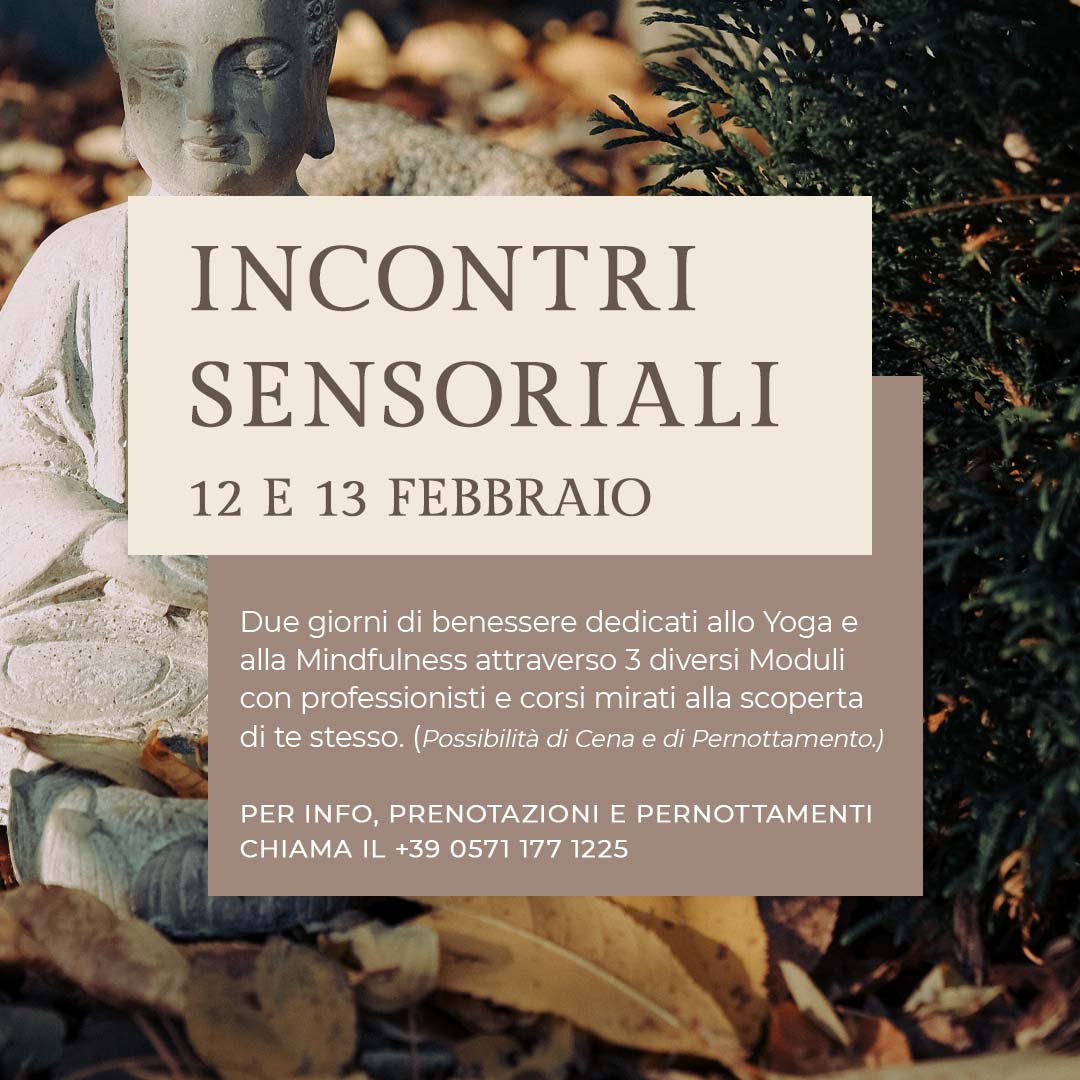 Discover the Yoga and Mindfulness courses
Information
Two days of wellness dedicated to Yoga and Mindfulness in Villa Petriolo, the ideal place to find yourself!
Discover the Three Modules with targeted courses together with professionals in the sector and good organic food made on our estate. Possibility of overnight stay in the structure on request.
February 12 | Module 1

€ 55.00 per person + extra dinner at € 35.00
17:50h / 18:45h – YinYoga with Claudia D'Aniello + Yoga Nidra with Anouk Renier. Divided into two parts with YinYoga, gentle practice, and subsequent relaxation with Yoga Nidra.
19:00h – Analysis of the 5 Senses through Food and Mindfulness with Erika Mollo & Heiki Buelau with local BIO products.
20:30 – Conclusione con Cena nella tenuta al costo aggiuntivo di 35,00€ a persona.
February 13 | Module 2

€ 50,00 per person (Lunch excluded + € 25.00)
09:00h / 10:15h – Awakening Yoga + Meditation. The course will begin with 15 minutes of meditation and breathing techniques with Anouk Renier, followed by Awakening Yoga with Claudia D'aniello. At the end, 15 minutes of relaxation led by Anouk Renier.
10:30h – Energy Break
11:00h – Exploration of Villa Petriolo with guided tour with Daniele Nannetti and Erika Mollo. Conclusion with an aperitif at the end of the module.
13:00h – Light Lunch at the additional cost of € 25.00 per person.
February 13 | Module 3

€ 40.00 per person (with final aperitif included)
16:00 h – Mindfulness + Bibliotherapy meeting. Investigating patience through Mindfulness and Bibliotherapy by Anna Dimaggio and Heiki Buelau.
18:15 h – Closing circle of the event with all the teachers who took part. (Open meeting)
At the end – Conclusion with a final aperitif inside the Villa Petriolo estate.